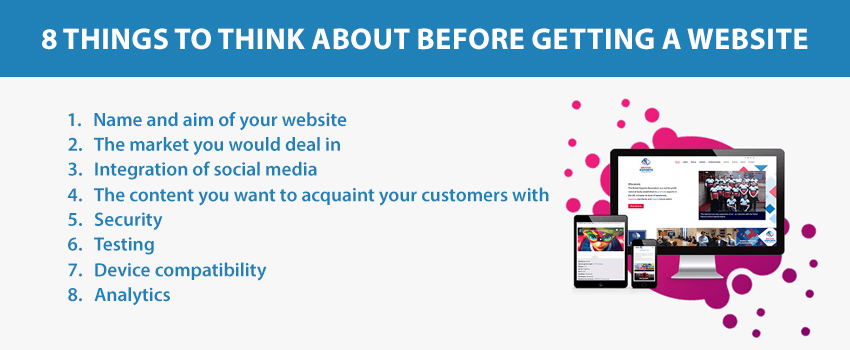 8 Things To Think About Before Getting A Website
Trying to build a website for your business for the first time? Getting accustomed to a new domain would take some time for you to get acquainted. But there are hundreds of people who are starting a new website each day and taking motivation from them you could build a website which you want. What people might be expecting from your website is always a question that irks the mind of people who are making a new website. But some elements prove to provide one of the best websites for the users. Several factors incorporate building a great website for yourself and this is where this guide would help you a lot. FireMedia has shortlisted 8 things that you need to consider before pitching your website.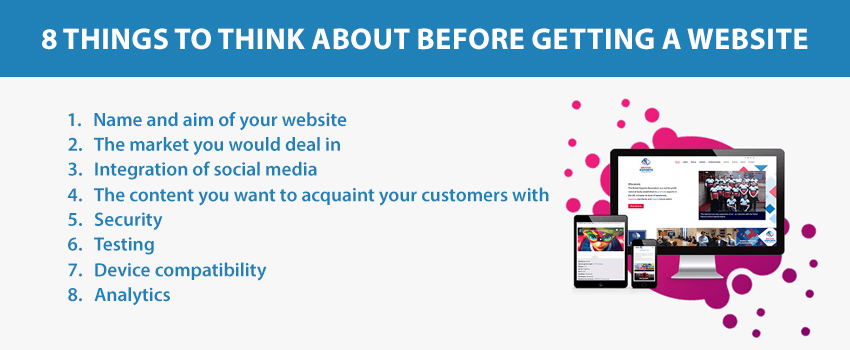 1. Name and aim of your website
Your domain becomes the identity of your website just like your name becomes the embodiment of you. So, you should be getting a domain name that you want people to remember. A good domain name should be one that should be easy to remember, easy to pronounce, and not very long. The domain name is the brand you would be setting up, therefore, think about it before buying it.
In addition to this, you should be strategizing the aim of your website. You would not like your website getting lost in the pool of the various websites which are present on the internet. The website should be having an aim which it should deliver to its customers. If the website is providing what it has aimed for, it would become a great one.
2. The market you would deal in
You should be aware of the market which you would be targeting. Selecting a market that has a good return on investment and low competition is always suggested. If you are targeting a market that has too much competition, you might get crushed by the big fishes of the industry. Moreover, if the market is not generating enough revenue then it is as good as no website. Therefore, choosing a market is an important step for your website development.
3. Integration of social media
Social media is a big part of society these days. If you could integrate various social media websites with your website, you would be engaging with a larger audience. You would also be getting leads from these social media if you could be built enough trust with the audience.
4. The content you want to acquaint your customers with
Content would make your website noteworthy and if the content is of poor quality or nowhere to be good, the website would not be thriving for a long time. Ensure that the content which is presented on your website meets the business goals which you are providing. Get good content developers for your website to get quality content and retain the audience which is coming to your website.
5. Security
The security of the website should be the priority of your website. If your website is not having a secured connection, then the audience visiting it would be wary of it. Therefore, get a website that is secured and does not pose any threats to the users.
6. Testing
Your website should be tested regularly for any bugs that might be lurking at any of its pages. Try to test every aspect of your website before launching it into the market so that the first experience of the users is good and they would be coming to it again.
7. Device compatibility
It is said that there are millions of different types of devices that are available. This is where you should create a website that is compatible with every device which is available on the earth. Try to get a dynamic website that is compatible with every device.
8. Analytics
This step is last and would be implemented when your website is running live. Analyze how each page of your website is working out and improve upon the elements which are not working.
Wrapping up
Getting a new website on the internet is a tedious business and involves a lot of strategizing and planning. With the above-mentioned guide, you know what you need to do as a new website owner.
You may also like