Best Woocommerce Plugins to Start Your Online Store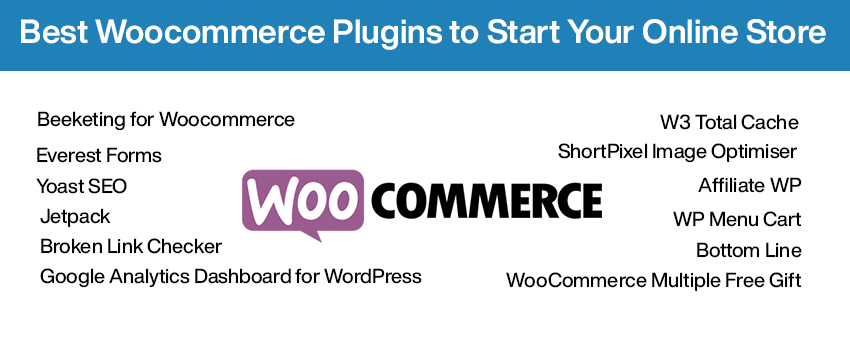 Best Woocommerce Plugins to Start Your Online Store
April 18, 2020
Fire-Media
Want to sell online? Woocommerce plugins solve all your business purposes in the online space and provide the interface to serve your customers better. There are diverse plugins available in both free and paid versions. One must choose wisely from the plugins for their online store and start selling like a star.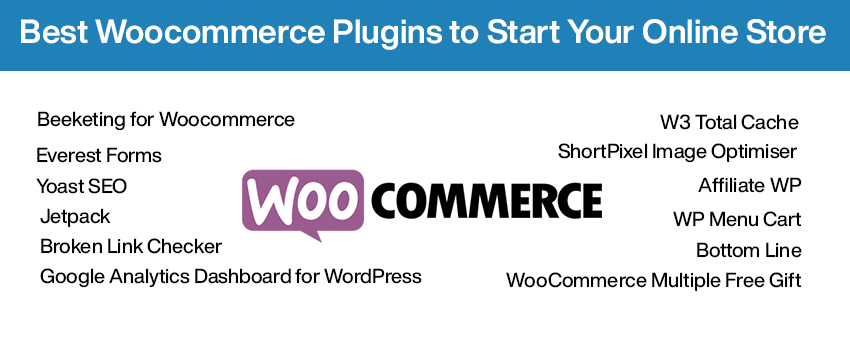 Which Woocommerce Plugin Suits Your Specific Need?
There are numerous plugins available in the store and you don't need every plugin on your WordPress website to help you scale up your business. Let's start with understanding the most useful plugins available to suit your needs.
Beeketing for Woocommerce

This awesome plugin is free of cost and helps you achieve your marketing goals while the user is going through your online store.

This add-on gives you access to multiple tools in a single click.
Sales pop tool lets you offer similar or diverse products while the customer is shopping.
It has multiple themes to make your website look appealing
It is easily customisable and lets you automate every notification.
You may display discounts, offers etc. with this interesting popup.

It is available for free but you may upgrade to premium for some other new functionalities.

Everest Forms

Who doesn't want the details of their customers? Everest Forms plugin gives you a responsive and beautiful form to let you capture the information of your customers and get in touch whenever required.

It's easily customizable to suit your specific needs.
Comes with the functionality of Google ReCaptcha to offer you enhanced security.
You may drag and drop radio buttons, dropdowns, etc.

You may download this for free and upgrade for some additional features.

Yoast SEO

This tool helps you increase your rankings in a reliable and customized way.

Comes with numerous suggestions to make your WordPress website SEO friendly.
It evaluates your webpages and lets you stand out from the competition.
It lets you look for your webpages and lets you observe how it behaves on both Mobile and Desktop.

You may download it for free and them pay for the premium features.

Jetpack

Want to get your website flying in the market? Jetpack solves your purpose of reaching the destination well in time.

It automates the major functions of your website to optimize the functionalities.
Numerous professional themes are available to pick and choose.
Brute force attacks are dodged with these plugins and guess what? you can check the downtime of your website regularly.

Available for free to download and could be upgraded for premium features.

Broken Link Checker

You don't want your customers to land upon the "404 page not found" page. This plugin lets you get away with that problem.

It detects for the links which are not working and the images which are not opening.
Notifications are sent on both your dashboard and via email notifications.
This plugin helps you run your website flawlessly.

This plugin is available for free up to the limit of 3000 pages.

Google Analytics Dashboard for WordPress

Now there is no need to visit GA page just to look for your traffic and analyse it. Everything is available on your WordPress Admin area.

Tracking code is available here and could be optimized according to your needs.
Real-time data is present right in front of your eyes and available for analysis.

This plugin is available for free of cost.

W3 Total Cache

Saving website's cache to serve the purpose of quick loading of the website could be automated using this plugin.

It increases the performance of your website exponentially.
It is compatible with multiple hosting solutions.

It is available for free and could be upgraded for premium features.

ShortPixel Image Optimiser

Large images take up the loading time, and can make your customers go away if it is not well optimized.

It increases the performance of your website exponentially.It automatically automates the function of compressing your images to optimize your website.
It supports formats like JPG, PNG, GIF, PDF, and WebP
Compression rate could be easily customized.

Some features are free and others require an upgrade to premium for all the features.

WooCommerce Multiple Free Gift

Your marketing and promotions get a boost with these plugins as you can offer multiple gifts without putting much effort.

You may decide the trigger points of the gift giveaways.
Message and layout is fully customizable using this plugin
It could be personalized and offered to specific customers only.

It is available with premium features in a paid version.

Affiliate WP

Working on an affiliate program to get your ranking up? This plugin lets you automate and customize it specifically to your needs.

Offering referral rewards is possible with this plugin.
It lets you track the source of traffic so that you may award the entities bringing valuable traffic to your online store.

It is available in the premium version.

WP Menu Cart

Get a customized Cart Button on the website which makes it extremely smooth to let your customer visit the cart.

It is responsive to suit the needs of your Mobile as well as Desktop.
It could be easily added to your WordPress website.
It has the option of a floating icon which could be moved easily.

Premium version is available for use in your WordPress website.

Bottom Line

There are numerous plugins to choose from and solve the specific purposes for your online selling business. Many versions both free and premium are available to make your business experience coding-free and fully optimized in serving your customers.