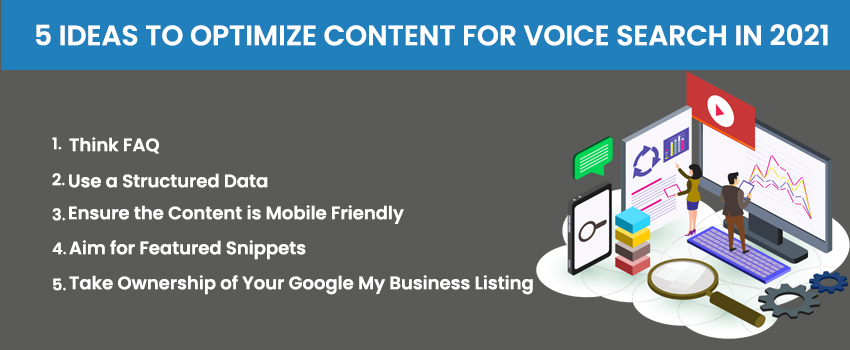 5 Ideas to Optimize Content For Voice Search in 2021
January 27, 2021
Fire-Media
Content is one of the powerful tools for digital marketing or Search Engine Optimization (SEO). The Search Engines crawl through the content of the website and analyze it if it is of good quality to rank it better in the SERPs.
Voice search has taken over and thus the content should be optimized accordingly. And, now it is a little tricky to identify how to write content or what kind of words and phrases should be used to nail the voice search of the users. The voice search is not only able to understand your words, but also your accent and speech patterns.
And, this is why you can just depend on the search engines only, you got to work your content as per the Voice Search in 2021. Here are some ways that can help you in content optimization.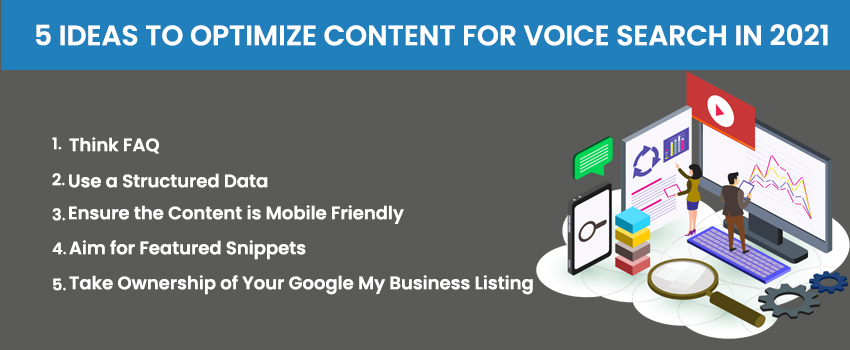 Think FAQ
Even when we are using a common and natural language worldwide, there are still some differences in the ways people use voice search. For instance, it can be movie theatres in my area, food delivery nearby, directions and they will all be different.
And, the traditional mode of including questions only on the FAQ page is not necessary. You can design a structure in mind and work upon the different ways to include the customer questions.
Use a Structured Data
It is important to create relevant content in a proper structure so that if the users look for a query, they get direct and relatable answers. There are ways by which you can help the Search Engines to work well. Mostly, using schema markup language has not much impact on the rankings of the websites or webpages. On the other hand, it is the microdata that helps the search engines study your content and help it rank better.
Most of the voice search is local and structured data can help with that. People look for an address, directions, options, phone numbers, and other immediately needed information. So, place them properly for the visitors to get their desired information quickly.
Ensure the Content is Mobile Friendly
Since the voice search is mostly on mobiles, you have to ensure that the content is mobile friendly. Use enough white space, have short paragraphs, subheadings, bullet points, and do not write some sluggish scripts, make sure the images are optimized as per mobile phones. Include impressive styles and layouts for the website and make sure that plug-ins and themes chosen are responsive. A mobile-friendly content should be easier to navigate, and interactive for the users to stay on the page as well as come back again for other needs.
Aim for Featured Snippets
Snippets are the content that answers the questions directly to the users. Including snippet content in your website or blog helps in ranking better. The search engines aim to give the users the answers from that little information box. Google Search Box features the top and best content for the queries searched. There are several techniques you can adopt to have snippet content and one of the best ways is to include the right keywords. Moreover, you must pay attention to the People Also Asked Questions concerning your services, and products.
Take Ownership of Your Google My Business Listing
As we discussed earlier, voice search is mainly local and the best way to optimize for local searches, then you must take ownership of the Google My Business Listing. This is like an added bonus for the customers to be able to locate you. Just do not include one piece of information, have your location, address, contact number, and other information that can help your visitors to learn about you. Have this information on every footer of your webpages. However, this does not mean that you should not have a contact page. The GMB should be complete and accurate in order to resonate with your customers.
Are you looking for a service provider for Content optimization in London? Here is the best professional at your service– Firemedia. The professionals are the experts in providing optimized content for your business.
You may also like